HENRI LECONTE

Born on July 4th, 1963, Henri Leconte has one of the best palmares (+) of French tennis.

Talented, generous, passionate, determined, frank, the former world number 5 and Davis Cup winner leaves no one indifferent.

Able to play shots "that do not exist" dixit Boris Becker thanks to his famous left arm that all his opponents feared, he marked tennis.

Retired from high level competition, Henri is President of the tennis section of the Levallois Sporting Club (LSCT) since 2010 (+).
He always plays for his own pleasure on the Senior Tour and gives precious advice to those who ask him.

Man of passions (+), medias (+) and communication, Henri has worked on Eurosport ("Avantage Leconte", "Le conte d'Henri") and regularly gives conferences on how to surpass oneself. (+).
RANKING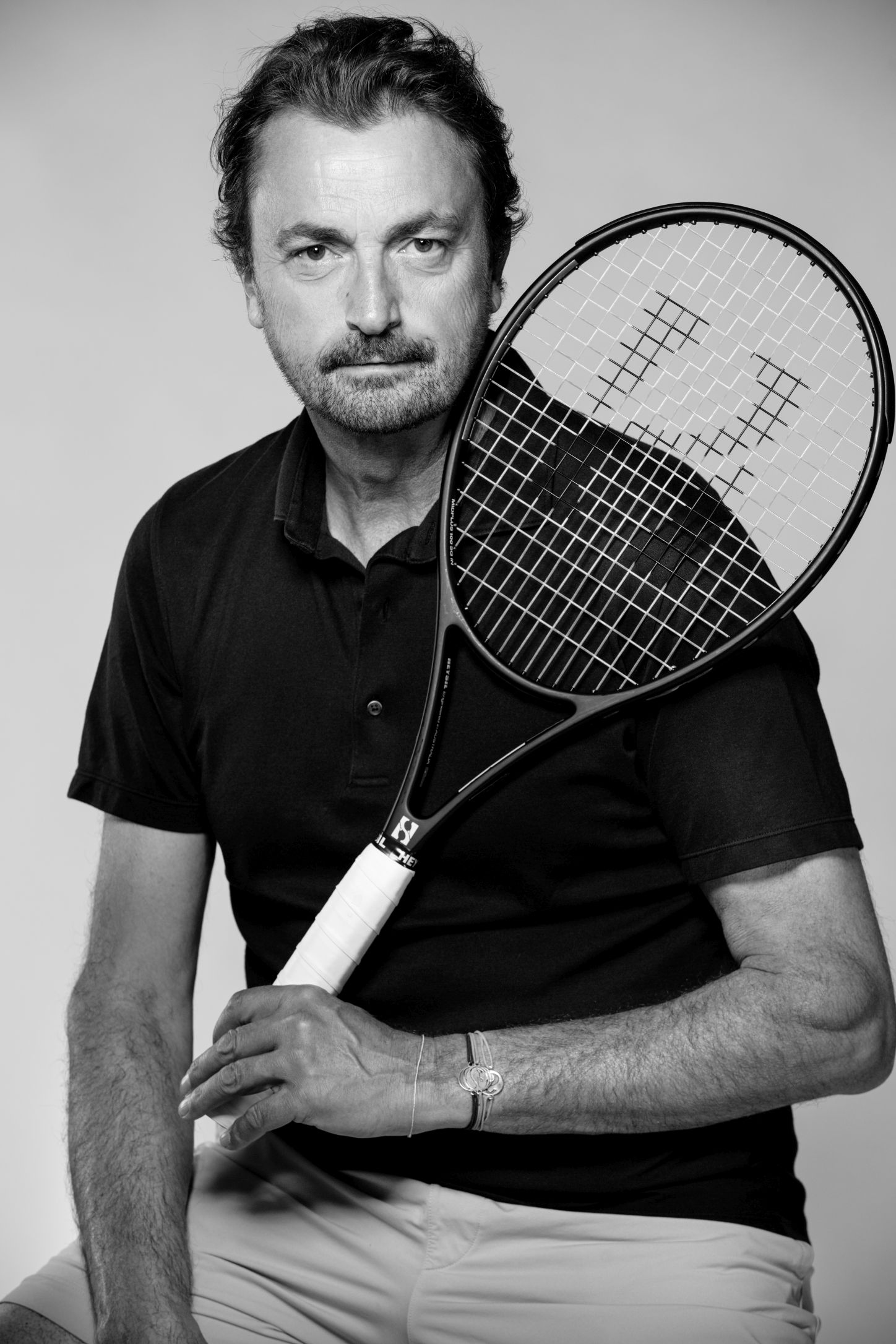 - Professional from 1980 to 1996

- Career-high singles ranking was world no. 5 in 1986

- Career-high doubles ranking was world no. 6 in 1985

- Won 9 singles titles

- Won 10 doubles titles

- Won the Junior title at the French Open in 1980

- Won the men's doubles title at the French Open in 1984 with Yannick Noah

- Finalist at the French Open against Mats Wilander in 1988

- Davis Cup winner with the French Team in Lyon in 1991

- 3 participations to the Masters in New York en 1985, 1986 and 1988
VIDEO BEST OF FRENCH OPEN
CAREER
The beginnings
Young Henri love tennis. His mother is a tennis teacher, his father plays doubles, his brothers and sisters are all good at this sport; Henri can't escape it. As soon as he can, he plays tennis.
At the age of 12, he decides he will be a tennis champion. At the age of 14, he stops studying. The first victories come very quickly. Among his main victories, he win the Junior title at the French Open in 1980 and achieved his first top-level singles title in 1982 in Stockholm against Mats Wilander. Few weeks later, he plays in the Davis Cup final for the first time against the United States. His top carrer begin.

ATP TOUR
During his carrer, Henri Leconte win nine singles titles and reach two Grand Slam singles semi-finals at the French Open and Wimbledon and the final at the 1988 French Open. Polyvent its play adapts to all surfaces.
His career-high singles ranking is world number 5 in 1986.
In 1985, 1986 and 1988, he participated in the Masters, a tournament held at the end of the year in New York for the eight best players in the world. He also win ten doubles titles (world number 6 in 1985), he win the men's doubles title at the French Open in 1984 with Yannick Noah and is undefeated with his doubles partner Guy Forget in the 11 matches they've played together .

Lyon, Davis Cup final in 1991
France won the Davis Cup in Lyon in front of the Americans Agassi-Sampras-Flach-Seguso and a crazy crowd in 1991. Henri beat Pete Sampras (world number 7) on the first day, which he described as the best match he played in his life. He then partnered Guy Forget to a doubles win over Ken Flach and Robert Seguso.
After 59 years, this was the first Davis Cup title for France. This historic victory makes Henri Leconte and the French team become sports legends. They became heroes.


Interview
"Play a Rafa, a Nole or Roger at my best? Yes, I'm like a crazy person and as motivated as ever! I've always loved playing Top Gun!!"
Henri Leconte and tennis have always been one
. Explanation of this passion pegged to the body by the main interested party by clicking
here
French Open
Interview with Henri about his career at the French Open